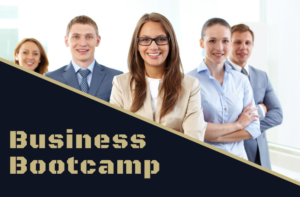 Are you struggling to get your business off the ground and going? Know your industry well but need guidance on the business side? This 8-week business boot camp can get you started down the road to having your own business up and running in just 8 weeks. Our 8-week business course hits on the main areas to get you and your business jump-started. We help you focus on the introduction to business, website, SEO, marketing/branding, finance, and coaching from top consultants in the field.
Class includes free templates for business and marketing plans. Along with your free copy of Leading by my Ponytail, rated on INC. list of top 60 leadership books written by women. Along with 4 Individual 1 hr. coaching sessions with Dr. Julie Ducharme bestselling and award-winning author. Nominated for Nonprofit Visionary of the year,  women of influence of the year and Remodista women to watch in 2020 in innovation. Make sure to watch Dr. Ducharme's video on her experiences as a business owner, women in the industry, and grit and courage. Don't miss this opportunity to get advice from the woman who wouldn't let the system break or stop her.
Why wait on starting your dreams and creating your freedom?
$899